Hurrah To Ndi-Igbo Germany!!!
I feel highly honoured and privileged to use this special moment to congratulate and salute Ndi-Igbo Germany (NIG) e.V, our capable and dynamic Leaders (past and present) for the progress and achievements made so far.
CONGRATULATIONS !!!
Ndi-Igbo Germany (NIG) Organisation was formally inaugurated on the 18th of February 2012 in Frankfurt. But the History of Igbo National Associations in Germany dates back to many years and credit shall be given to many prominent Umu-Igbo in Germany who did their best to bring our people together in the past. At first, there was Nzuko Umuigbo Germany (NUG) and later Igbo Representative Council Germany (I.R.C.) but they all fizzled out after sometime. In about 2010 /11, some Cities and their Unions started to seek ways of re-uniting our people in Germany, prominent among these Cities are Stuttgart, Freiburg, Frankfurt, Heilbronn, Nürnberg, Ulm, Mainz/Wiesbaden and many others.
The present Ndi-Igbo Germany (NIG) Organisation took off after the death of the late Igbo Leader, Dim (Gen.) Chukwuemeka Odumegwu – Ojukwu. The demise of Eze Igbo Gburugburu, Dim Ojukwu in November, 2011, struck a chord among Ndi-Igbo and created an unprecedented opportunity for both a global re-focus and harmonization of Ndi-Igbo (Igbo people). In Germany, the whole essence of the Igbo of South-East Nigeria, its background, fears and values dovetailed into an Umbrella organization for all Umu-Igbo known as Ndi-Igbo Germany (NIG).
Dim Chukwuemeka Odumegwu-Ojukwu (1933 – 2011) was the former Governor of Eastern Nigeria and the Head of State of Biafra (1967 – 1970). He was a soldier, administrator, politician and a Nigerian Statesman whose Ideals include equal
opportunities, equal rights, good governance, social justice and freedom for all Nigerians and Mankind. NIG identify with and share these democratic ideals of Dim Ojukwu.
Ndi-Igbo are known to be their brothers´ keepers, hence, wherever we find ourselves throughout the world, we form associations that bind and bring us together. NIG, as the apex Igbo organisation of all Igbo associations in Germany, grooms and coordinates ideas that promote strong and united Ndi-Igbo in Germany. Other objectives are:
- To foster the educational, social, economic and political integration of Ndi-Igbo into, and contribution to, the German socio-polity in a peaceful and law-abiding way.
- To record, support and champion the successes, efforts and contributions of people of Igbo extraction in Germany, and celebrate the achievements of Ndi-Igbo globally.
Ndi-Igbo Germany (NIG) Inc. is purely representative and comprises organizations uniting all people of Igbo descent whose branches are in various German Cities as members. The Head of Administration of Ndi-Igbo Germany is known as National Coordinator. The National Co-ordinator pilots the affairs of the Organization with other Executive officers. The office of the National Co-ordinator and all other Executive Officers have a limited Tenure. The National Headquarters of Ndi-Igbo Germany (NIG) Inc. is in Frankfurt am Main.
The formation of Ndi-Igbo Germany Inc. was remarkable in the sense that Gen. Ojukwu´s spirit of oneness brought together Ndi Igbo from different parts of Germany and the national Body was formed without a single opposition.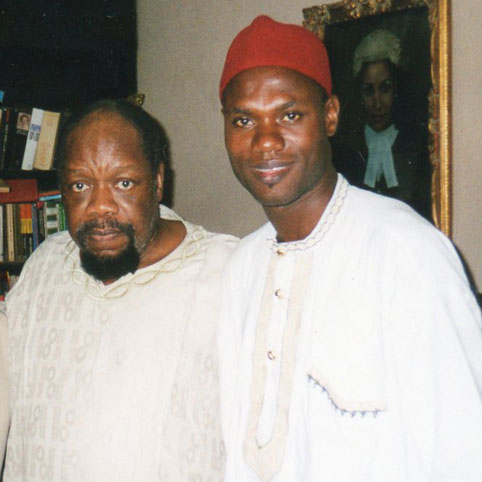 The Meeting of 18th of February 2012 in Frankfurt was attended by 81 Igbo Elders and Delegates from various Igbo Organisations who unanimously agreed to form the national Body and adopted the name, Ndi-Igbo Germany (NIG).
The organisations and members present were: Igbo Cultural Organisation Mainz / Wiesbaden; Nzuko Ndi-Igbo Cologne; Igbo community Union, Southwest Germany - Freiburg; Obi Igbo Rhein Main Frankfurt; Ndi-Igbo Berlin; Igbo na Enyi Nurnberg; Igbo Union Koblenz; Igbo Union Münster; Igboezue Ulm; Nzuko Ndi-Igbo Heilbronn; Igbo Association Ingolstadt; ICF Munich; Igbo Union Kassel; ICO Mannheim; Igbo Union Hamburg; Nzuko Ndi-Igbo Hannover and Ndi-Igbo Düsseldorf.
NIG therefore lays valid claims to being a worthy body that is created for the service of Ndi-Igbo in Germany and mankind.
Long Live, Ndi-Igbo Germany (NIG)
Long Live, Igbo Nation
Chief Joe Mmeh
Ogbuefi Nnanyelugo
Former Coordinator